Rasmalai – Super soft, melt in mouth cheese balls in creamy milk.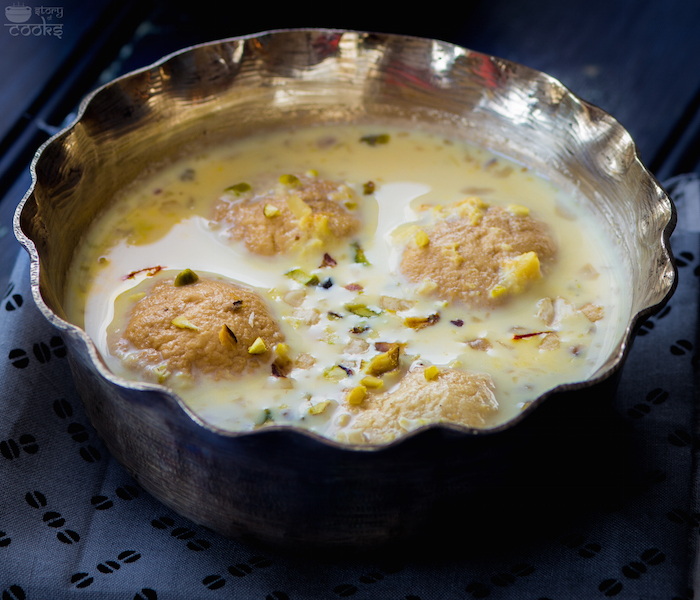 Last weekend was quite eventful for two of us. On Friday evening, we went to a local eatery "Bergamot". After a while, two of us went on a dinner date. Later that same night we went to 'Lucky's Lounge' for a drink and music. On Saturday, I woke up late, prepared ghugni and left for the apple farm around 2. It was 20 miles from Boston and where we live, but it was so much fun. We entirely enjoyed picking apples and clicking pictures of the gorgeous farm. I hope you've not missed my post about apple picking. Now I need to find some good apple recipe to blog.
P.S. There are some pumpkin pictures, which we did not pick!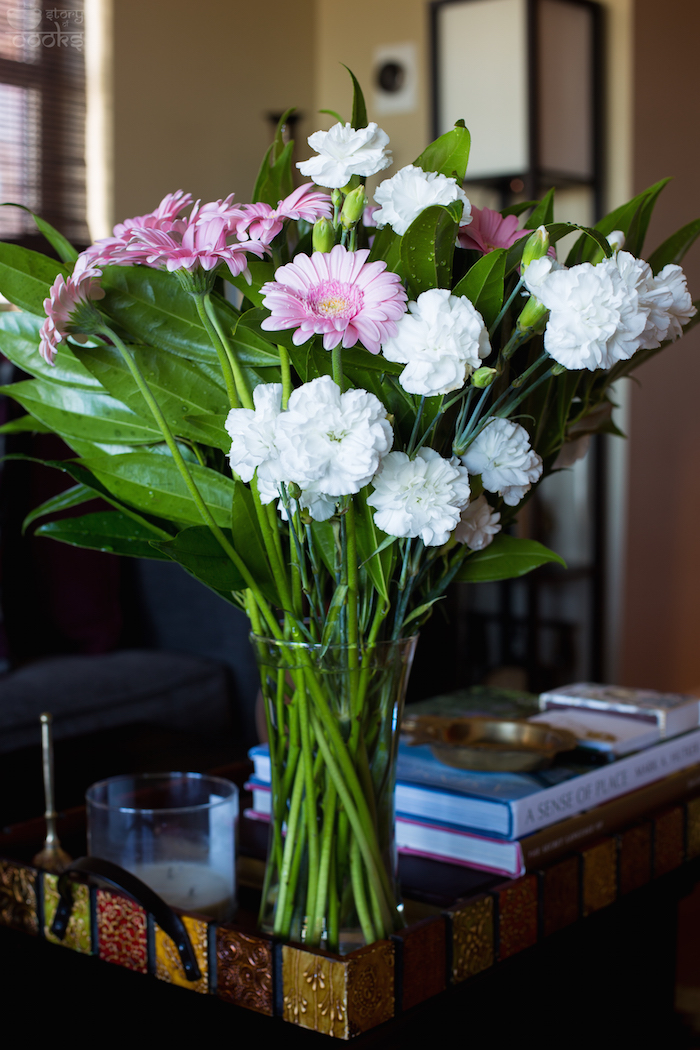 Fall is coming slowly to Boston. Temperature is around the lower 70s during the day and night is around 50s. I finally packed my sleeveless summer clothes to the upper drawers of my closet and brought down the light sweaters. I love pumpkins, gorgeous colors, soups, warm and cozy knee-highs – just everything about fall.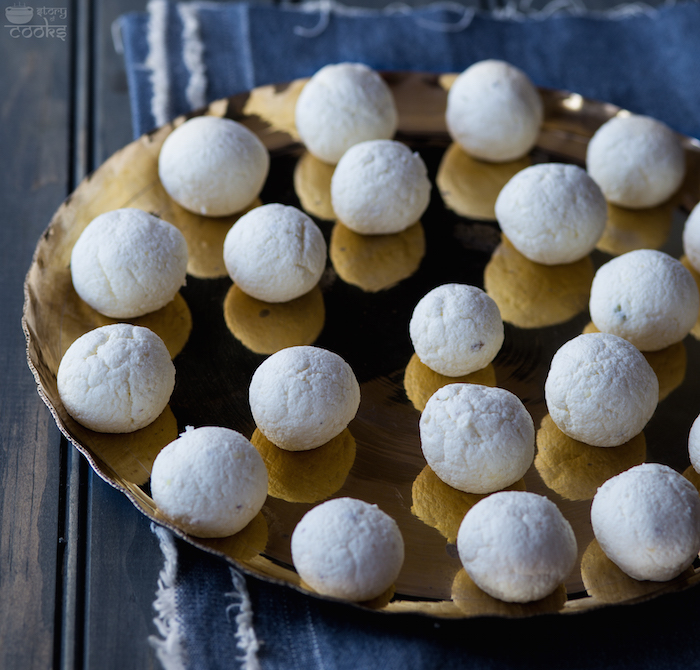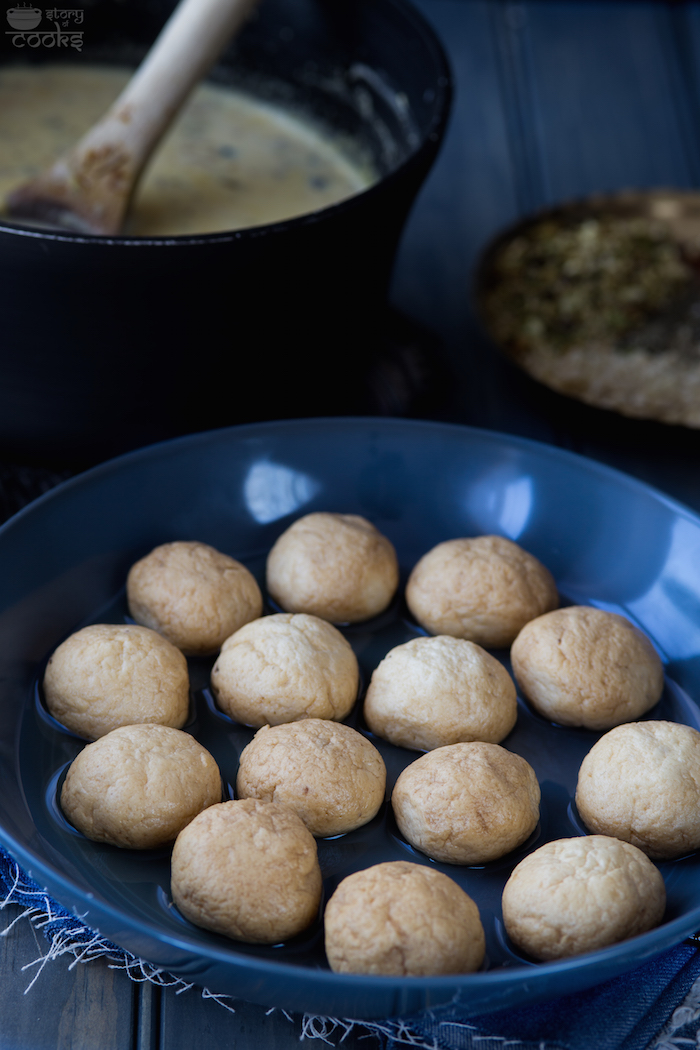 Last Sunday was one of the gorgeous fall Sunday. I decided to take things a bit slow. I woke up late, took pictures of apples in sunlight, and prepared an Indian Dessert for two of us. I edited my ghugni post and pictures during the afternoon. Later that day, we watched movies and snuggled under a cozy blanket. Sometimes it's better to take things a bit slow as time is passing way too fast.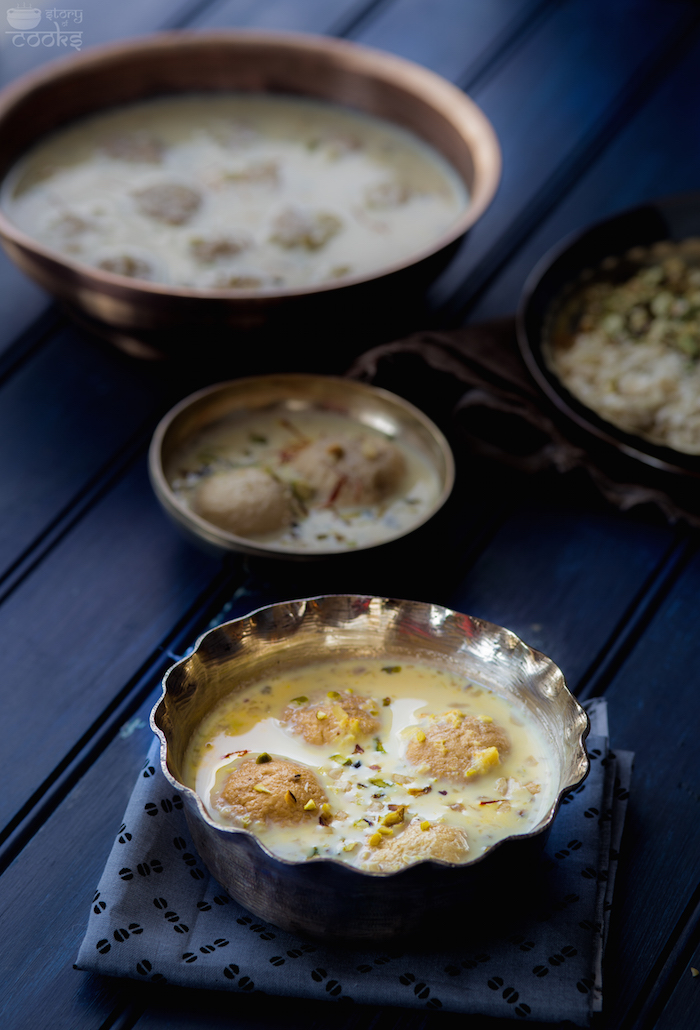 Ma prepared this dessert last week and she sent me pictures over WhatsApp to torture me. She also eats and slurps right in front of me, over skype. She does it all the time. Finally, I gave up and prepared this dessert for two of us.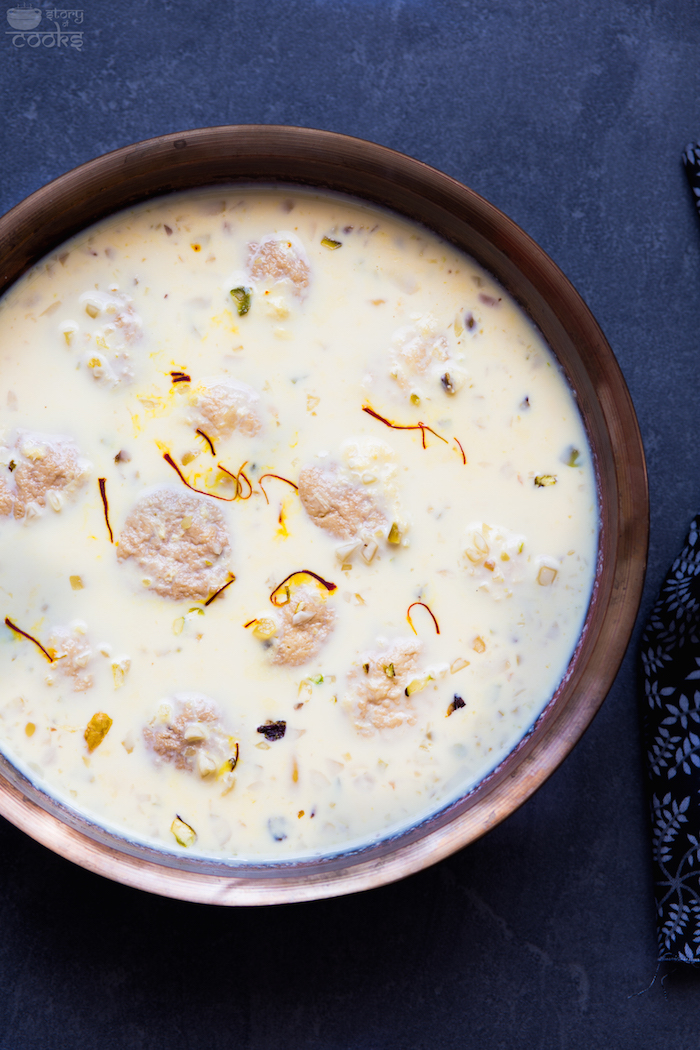 It was my first time preparing the dessert, but I nailed it! Ma has prepared it a dozen of times, with all possible permutations and combinations. She says this is the best and the easiest way of preparing. Believe me, if you can make a cake, you can make it as well.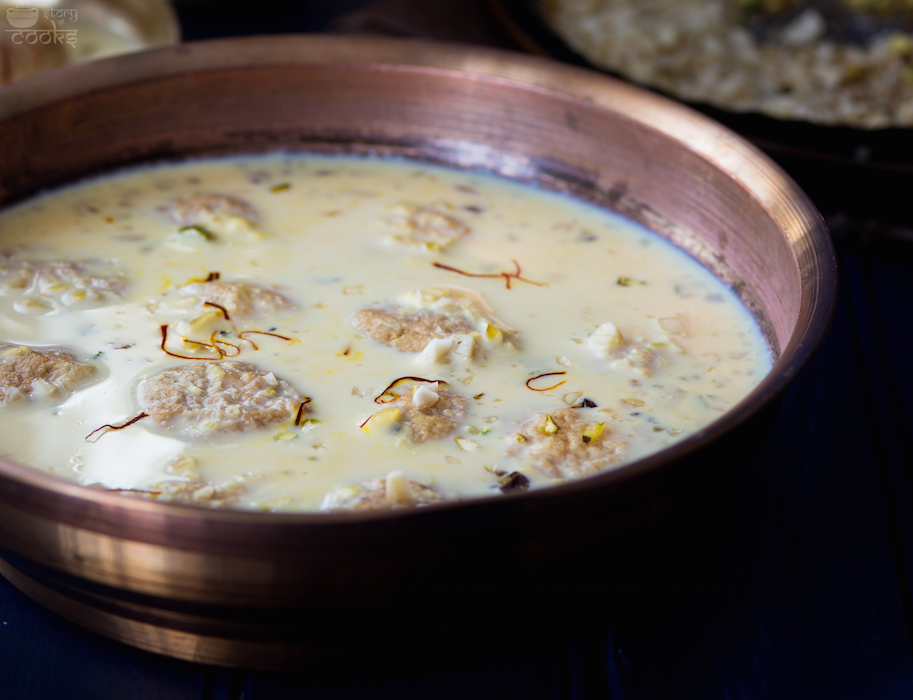 This dessert is very famously known as Ras-Malai in entire India. You can easily find a bowl of Ras-malai in any Indian Resturant. They taste nowhere close the homemade ones and the price is quite expensive too. If you follow the recipe, it's much easier than you think.
Wiki says: The name ras malai comes from two words in Hindi: ras, meaning "juice", and malai, meaning "cream".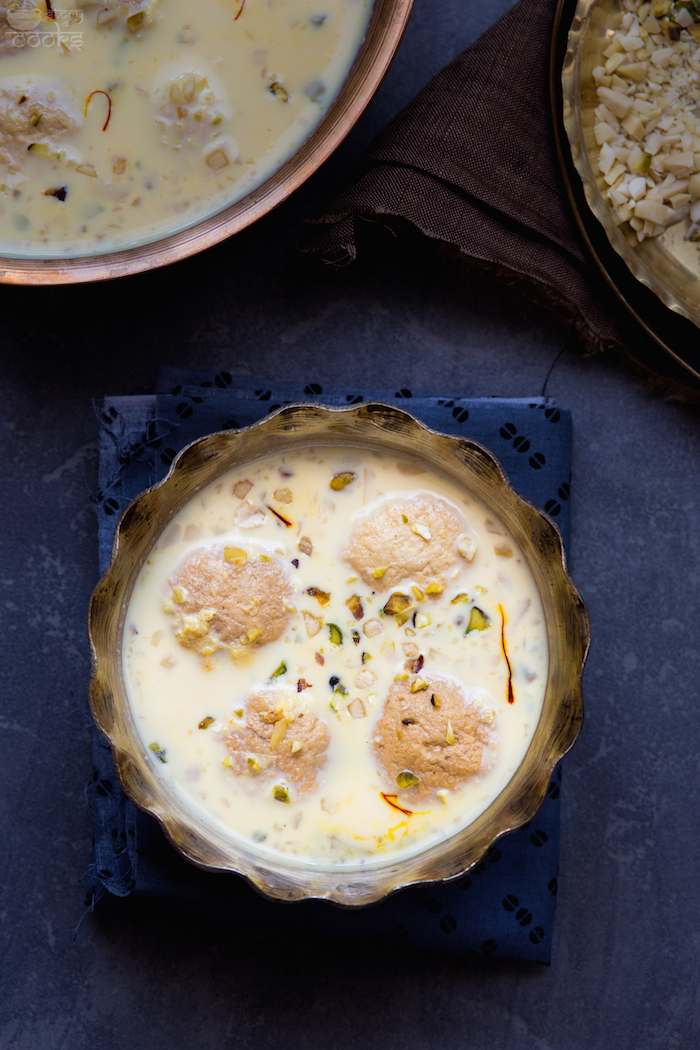 Rasmalai was invented in 1930 by a famous Kolkata Businessman K.C.Das. First you prepare paneer balls and make it the exactly same way you prepare the rasgulla. Once they soak the sugar syrup, press it to release the sugar syrup. Meanwhile prepare the kheer or malai with cardamom, chopped nuts and dunk the cheese balls in that. It has flavors of cardamom, chopped nuts and saffron (which also infuses a yellow color). I prefer my cheese balls to retain a round shape, but you can flatten it.
Rasmalai is best served chilled and the next day when spongy cheese balls soak the thick creamy milk.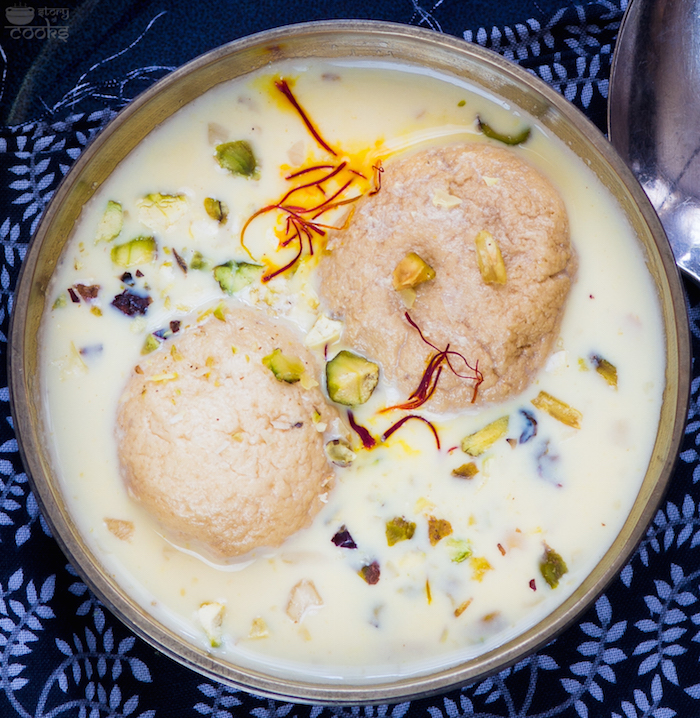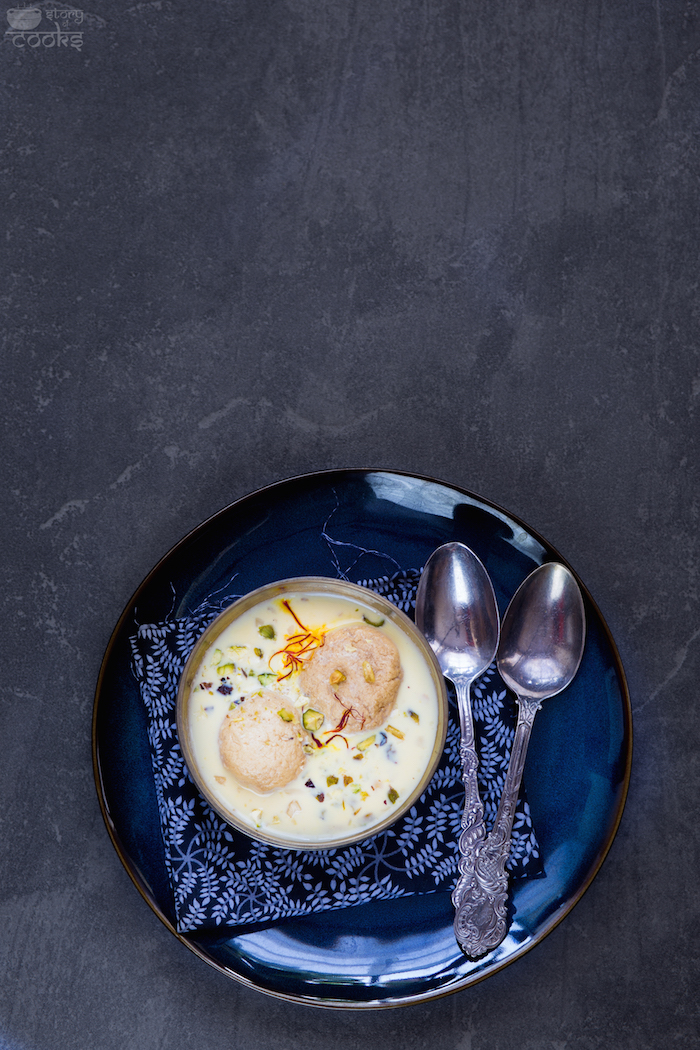 Special News: We've opened a new Etsy Store. Don't forget to check out our new collections there. 

Giveaway:
As the festive season is just around the corner, we decided to share a camera backpack with all of our readers.However, this is only limited to US participants, so do not forget to participate in this giveaway.
Here I have showed how to prepare rasgulla steps by step. Follow that tutorial, if you have doubts.
I have used organic turbinado sugar, which is why my rasgullas are brown in color. You can use any kind of granulated sugar.
I have grounded the green cardamom with a mortar and pestle. I have removed the green skins and used the ground black seeds.
DON'T FORGET TO CHECK OUR SPECIAL NOTES IN ITALICS. 
Recipe for Rasmalai
1. Divide the milk in half. In a large non-stick saucepan, over medium-low heat, simmer one-half (1.5 liters or 1/2 gallon) of the milk. Stir occasionally, otherwise at milk will get burnt at the bottom.
2. In another non-stick saucepan, over medium-high heat, heat milk(Use full-fat milk only, there is no alternative to it). Keep stirring in between; otherwise, the milk will stick to the bottom. When the milk is boiling (Make sure your milk is in a rolling boil before taking out of the heat), take it aside.
3. Cut lemons in half and squeeze the juice into a bowl. Add one tablespoon of water and vinegar.
4. Add lemon, vinegar solution to the milk. It will start coagulating in 3 to 4 seconds.
5. Set a strainer over a mixing bowl and line it with a cheesecloth. Carefully pour the milk curds into the strainer, letting the whey collect in the bowl. Take aside the whey (You can use the milk whey for something else).
6. Add 4 cups (or more) of water to the paneer and wash it well (Washing the paneer not only helps to get rid of the acidity but also helps to cool it down). Gather the four corners of cheesecloth in your hand and gently squeeze to remove the excess whey. (You do not need to hang the paneer for 45 minutes to an hour. Just squeeze it well)
7. Take it aside in a big mixing bowl. With the palm of your hands, knead the paneer well for 4 to 5 minutes (Knead the paneer very well, 4 to 5 minutes are enough). Add 1/2 of the ground green cardamom and knead it for 2 to 3 minutes more. It should have a very fine consistency, allowing you to form a paneer dough. Take a small portion of it and roll into small balls working between your palm. Make sure your balls are smooth and firm (If your balls are not smooth and firm, it can break in sugar syrup while boiling). You should be able to make 20-22 balls, depending on the size of balls.
8. Meanwhile, in a pressure cooker add 1 cup sugar, water. Over a medium-high heat, start boiling.
9. When it starts boiling, add paneer balls slowly and close it. After you hear the first whistle, turn down the temperature to the lowest setting and keep it there for 7 minutes (Please use a timer). Take it aside for 5 minutes. Release the pressure and open the lid. Check your rasgullas and close it immediately. Keep it closed for 20 minutes (Please use a timer). Open the lid and take the rasgullas out in a bowl with a slotted spoon. Do not pour the syrup. Your rasgullas should look like mine in the picture.
10. Milk in the other saucepan should have reduced to 60 % (more than half) by now, add 1/4 cup sugar. Stir to mix it well. Add 1/2 crushed green cardamom, almonds, pistachio, cashew and saffron. Stir it to combine everything well. Set it aside until you prepare the rest.
11. When it's cold enough to handle, take one rasgulla in a strainer. Press the rasgullas gently with the back of a spoon to squeeze the excess sugar syrup out of it. (Remember they're cheese balls not rubber balls, so handle them carefully). Dunk them in thick milk syrup, garnish with almonds, pistachio, cashew and saffron. Serve chilled and it's best served the next day when cheese balls soak some milk.