Shrimp Malaikari – Shrimp in thick coconut based curry which is best enjoyed with saffron pilaf.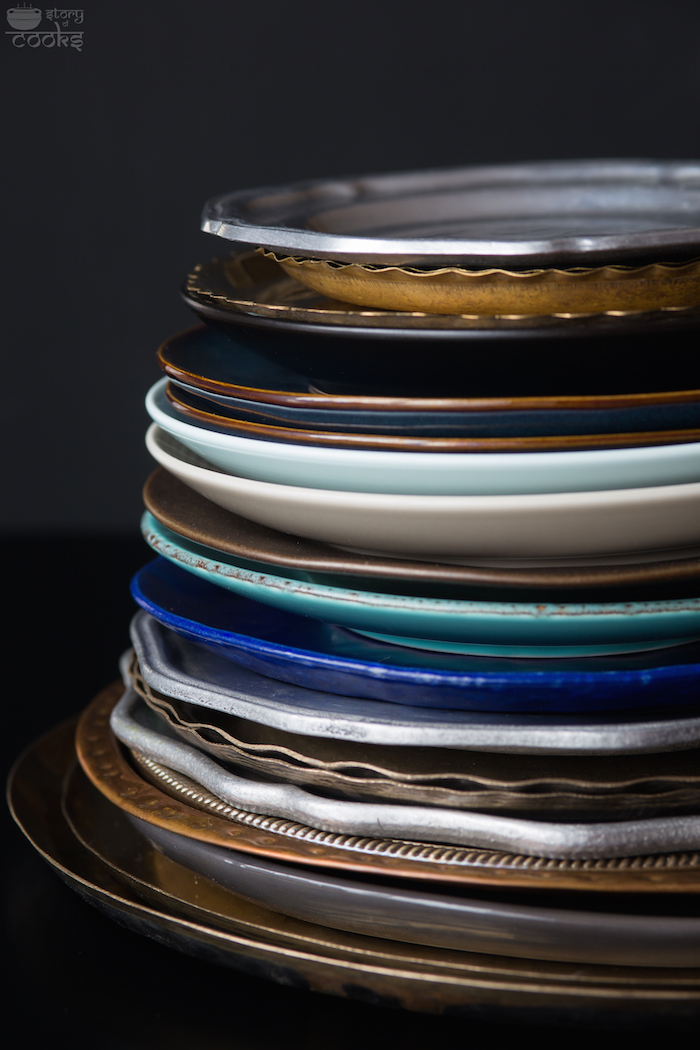 The sixth day of Durga puja is MahaShashti. Normally, Durga puja starts on this day. We consecrate Ma Durga's idol and start our puja by inviting her. Our whole neighborhood dresses up with Durga puja attire. The aroma of incense sticks, sounds of special drums (dhak), new clothes, friendly smiles, and leisurely strolls all set the mood for Durga puja. Early morning at home, ma prepares her signature shrimp curry with coconut milk and sweet saffron pilaf for us. We used to eat lunch late that day and thoroughly enjoy our food!
Last year, around this time during Durga Puja, I prepared shrimp malaikari and goat biryani for us. I re-did the goat biryani, but never got a chance to redo the shrimp. Those pathetic pictures were watching me. I was too ashamed to share the post with my fellow bloggers and friends, as the photos were not doing injustice to the dish.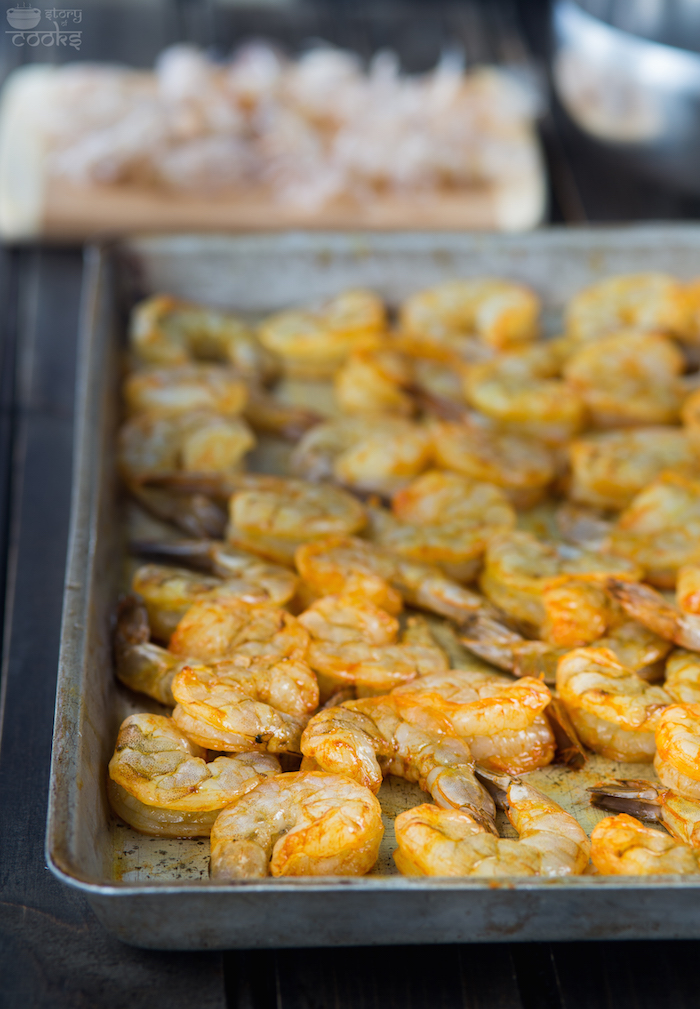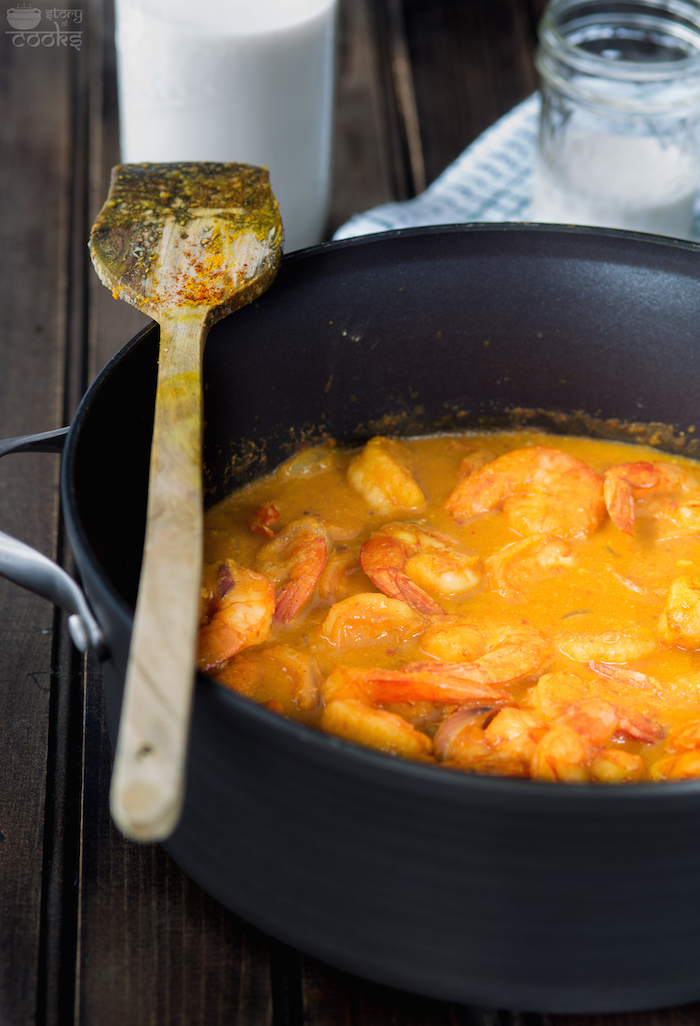 A couple of months ago, I asked Just Roy from Heuristic Kitchen if she wanted to do a regional cuisine post together and she said yes! She is also from North-East India and we share the same food culture. When I was preparing Shrimp Malaikari at a Boston Kitchen, Pallavi was preparing Dab Chingri at her London Kitchen. There are thousands of miles between us, but there is a strong connection between us – food. Here is Roy's TENDER COCONUT PRAWN CURRY recipe.
Malaikari is a signature dish from Kolkata and Bengal. It's conventional for Bengalis to make malaikari on special days like birthdays, anniversaries, rice ceremonies, weddings and for guests.
Every Bengali family has a malaikari recipe. Ma has been preparing this recipe for the last 3 decades. There is no right or wrong method with this recipe and every single malaikari recipe is unique.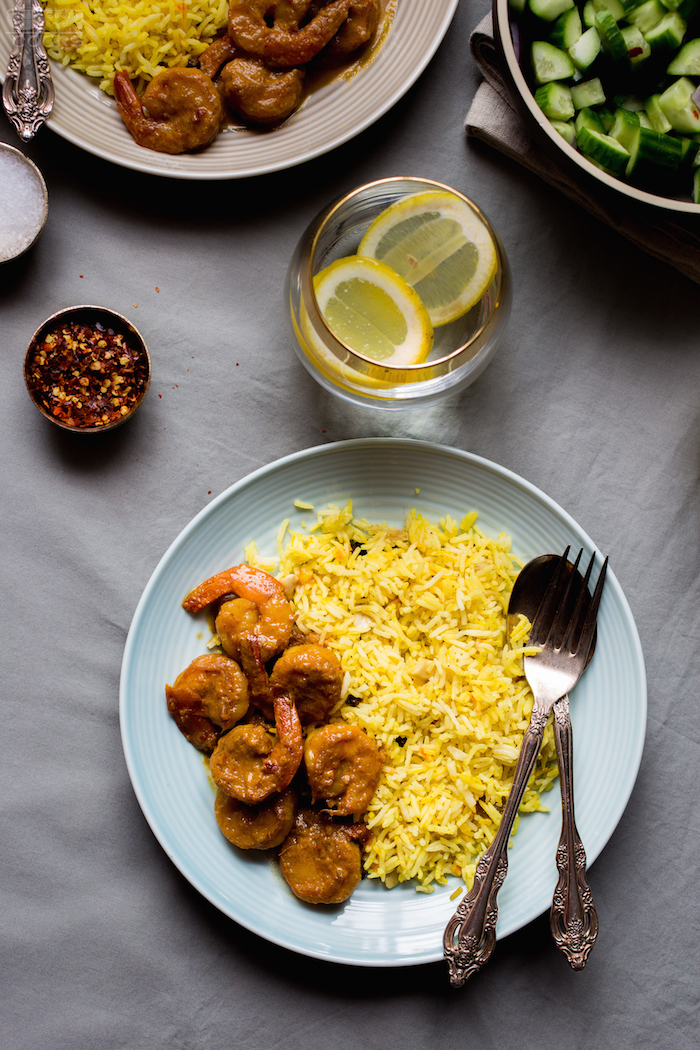 The secret to making a perfect malaikari is to use fresh prawns and fresh coconut milk. I have used frozen shrimps many times, but the taste is much more authentic with fresh prawns. I have used and seen many use canned coconut milk. Ma does not have access to that and she strongly suggested that I prepared the coconut milk at home. I do not regret those extra minutes of work. It was worth every single second of straining coconut milk from a fresh coconut.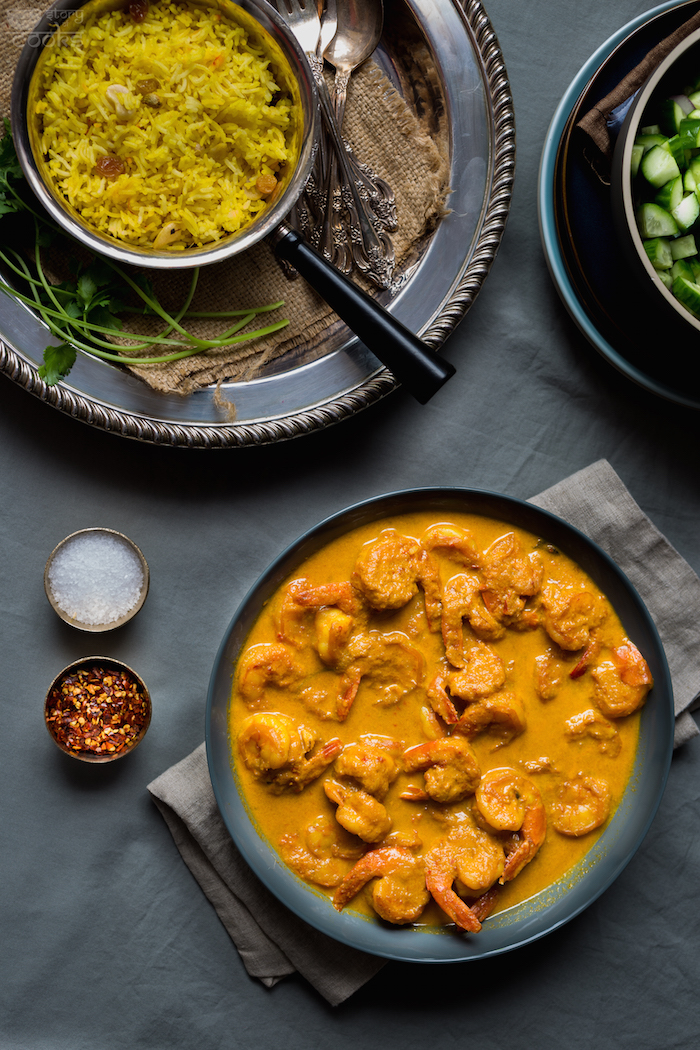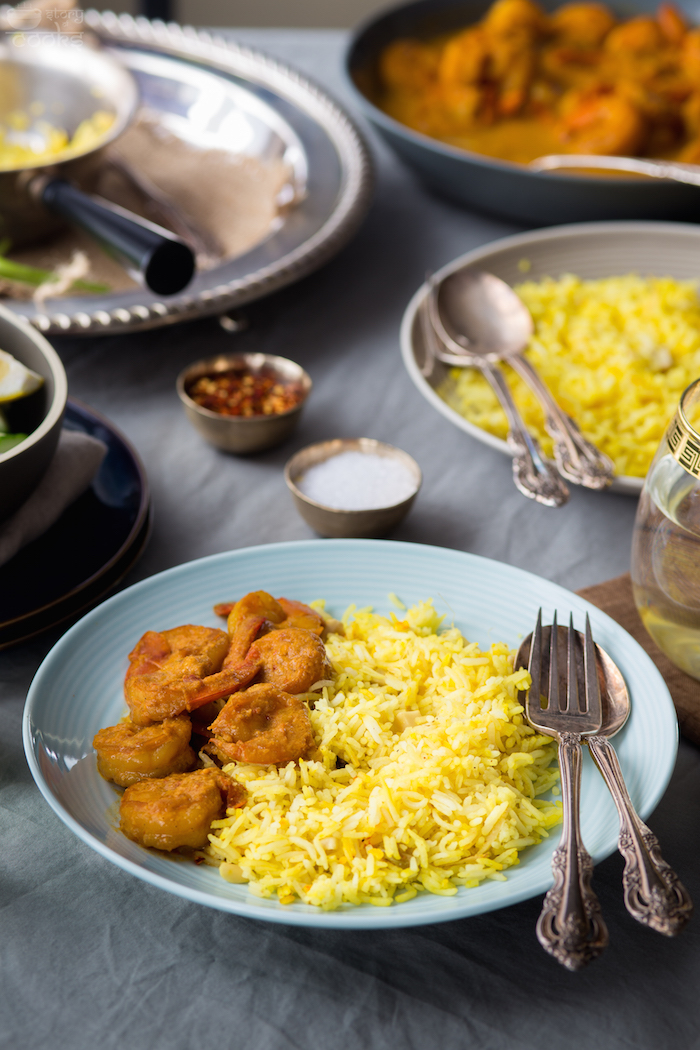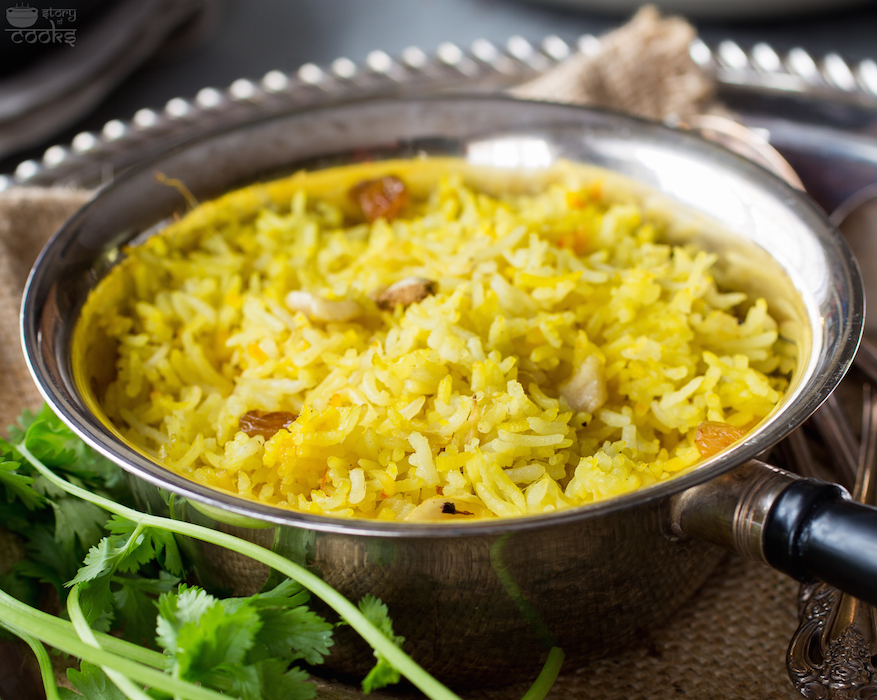 Recipe of Shrimp Malaikari and Saffron Pilaf
Saffron Pilaf
Malaikari
Instructions
Saffron Pilaf
1. In a heavy bottom soup pot, over a medium heat, heat clarified butter and oil. Add bay leaves, cinnamon, cardamom and cloves. Cook it for 2 to 3 minutes, or until itsplutters.
2. Add cashew pieces, grated ginger, rice, salt and sugar. Cook it for 3 to 4 minutes, or until the rice is toasted.
3. Add raisins, saffron and 4.5 cups of water. Over a medium-low heat, cover and cook it for 10 to 12 minutes or until the water reduces.
4. Lower the temperature to the lowest the setting and cook for 5 to 7 minutes more, or until the rice is fluffy. Fluff with a fork and set it aside in a plate.
Generally, I prepare the rice and set it aside in oven-safe containers inside a warm oven (150F) until I prepare the rest. You can also set it aside in a pan and keep it inside a closed microwave until you prepare the rest. However, do not turn the microwave on.
Coconut milk:
1. Break the coconut in half and scoop the flesh out with a blunt pairing knife. After that, peel the skin and break it into small pieces. Using a food processor, grate the coconut flesh with one tablespoon of water. After that, squeeze the milk out of the coconut and set it aside. This is known as "coconut cream". (Alternatively, you can use 2 tablespoons of store-bought coconut cream)
2. Next, transfer the shredded coconut back into the blender and add 1/2 cup of water. Work it until smooth and strain out the milk. This is your "coconut milk". (Alternatively, you can use 1 and 1/2 cup store-bought coconut milk)
Shrimp Malaikari
1. In a shallow plate, line the shrimps. Sprinkle salt and turmeric, and mix them well with your hands. Keep it aside until you prepare the rest.
2. In a food processor, add 1 cubed red onion, ginger, garlic and 1 red chili. Work it until smooth. Take it aside in a bowl. In a coffee or spice grinder, add cashew pieces. Work it until smooth. Take it aside in a bowl. Add 1 tablespoon of water to create a fine paste.
3. If you're using frozen shrimps, this step is a must.
In a non-stick skillet over a medium heat, heat 1 tablespoon of vegetable oil. Add marinated shrimp pieces and sauté it for 4 to 5 minutes. Take it aside in a bowl.
4. Wipe out the skillet over a medium heat, heat 1 tablespoon of vegetable oil. Add cinnamon, cloves and cardamom. Cook it for 1 to 2 minutes, or until they sizzle. Add onion slices and fry it over a medium heat for 5 to 6 minutes, or until they are golden brown. Add onion-ginger-chili paste, red chili powder, 1/4 teaspoon of turmeric and cook it for 3 to 4 minutes or until the masala is cooked through.
5. Add cashew paste and 2 to 3 teaspoons of coconut milk gradually, 1 teaspoon at a time. Cook it for 2 to 3 minutes or until you see the masala paste is cooked through.
6. Add shrimp pieces, salt, rest of the coconut milk and cook it for 8 to 10 minutes or until they are soft and tender. Add coconut cream. Stir in order to mix it well. Take it aside. Serve with saffron pilaf.