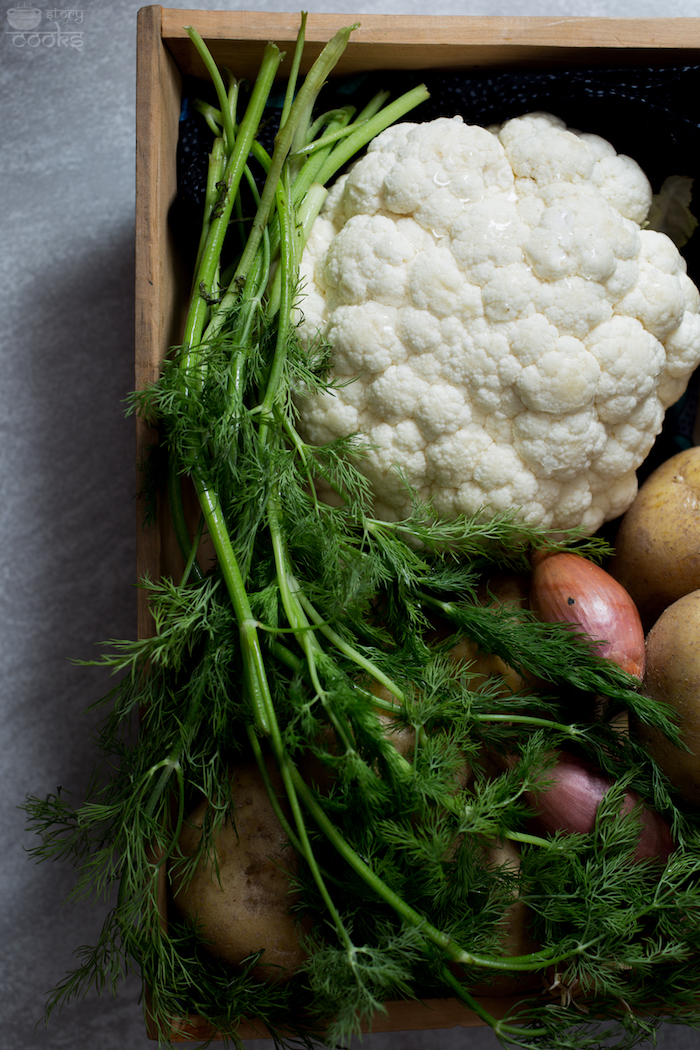 Potato Gratin: Gooey cheesy cauliflower and potato with fresh herbs and cheese – what can be better than this on your Thanksgiving Table?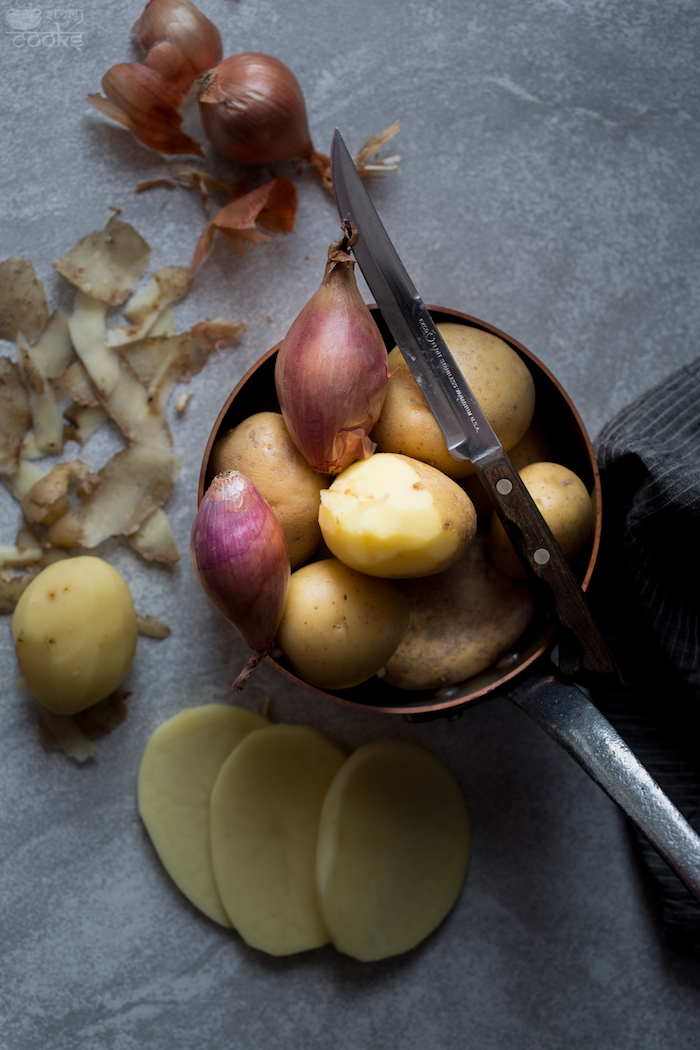 All right, Folks!
I need to share what's happening with me. I am diagnosed with borderline cholesterol problem. I do have high cholesterols and potassium in my blood. However doctors here mentioned that I do not need to take medicine and I just need to control diet. So no more red meat, egg yolk, ghee or butter for me! I can have them only in very small doses.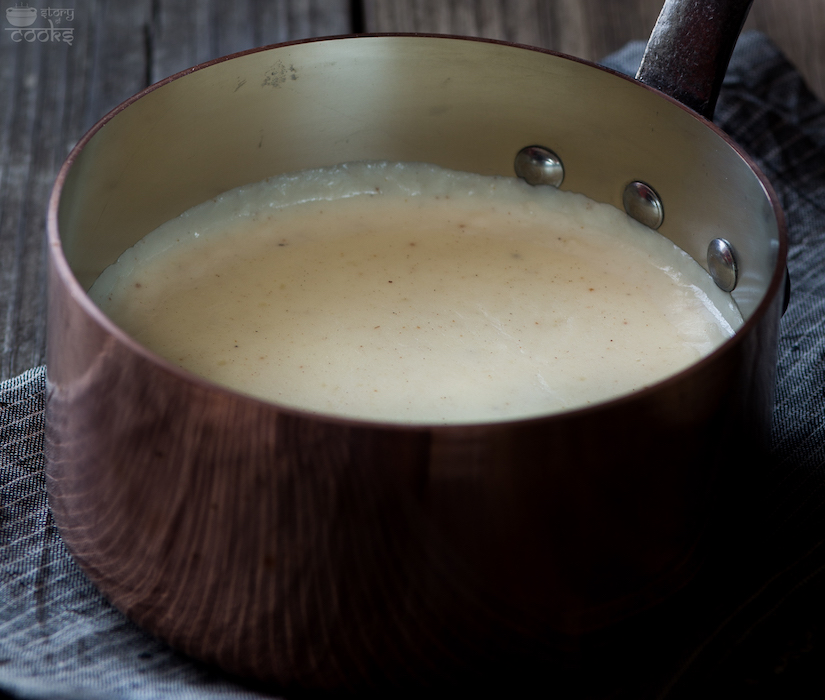 [puregallery]
The doctors were shocked to see my cholesterol levels as I am very lean and also not that old (30 is not old in the medical business apparently). However, high cholesterol runs in my family so I need to check my food intake and do a checkup every 6 months. The doctors also advised me to continue my cardio.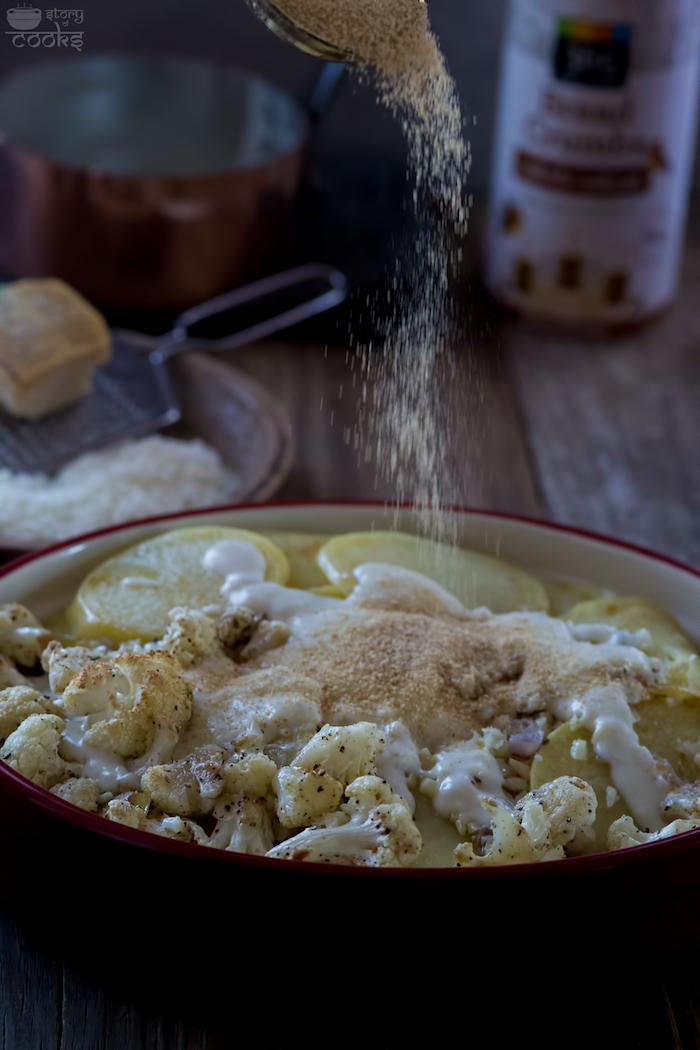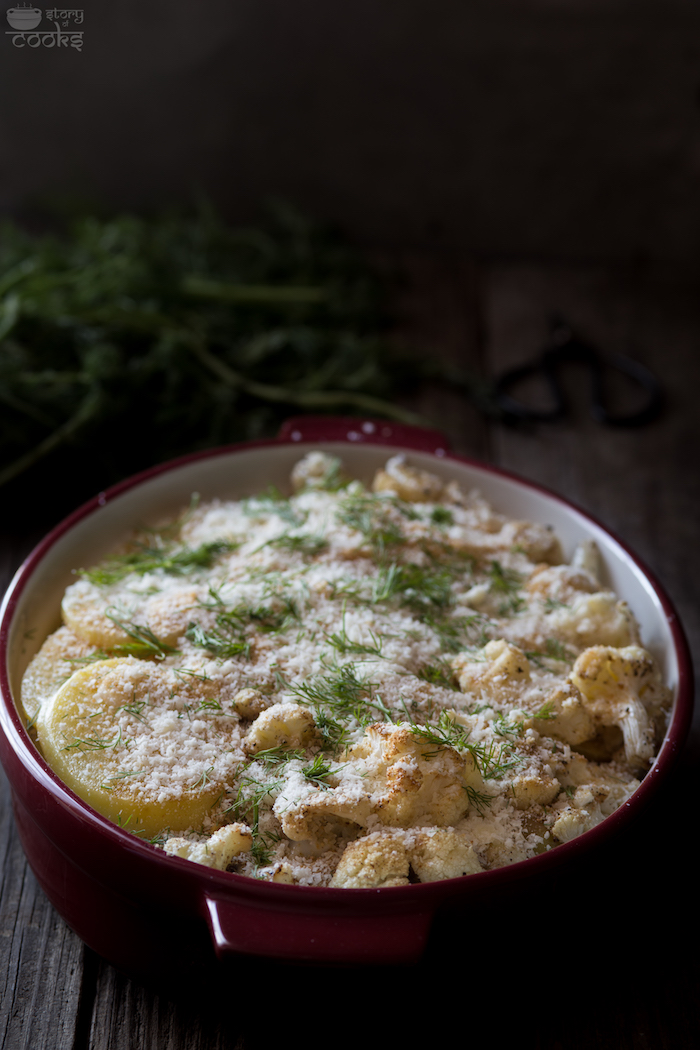 Don't get panicked! I am not going to stop blogging and cook cake and pastries. My husband is fine and that poor fella is looking forward to the holiday season and baked goods. So I am going to bake (a lot) for him and my sweet office peeps (all of them are male though). I will have them, but only in small quantity.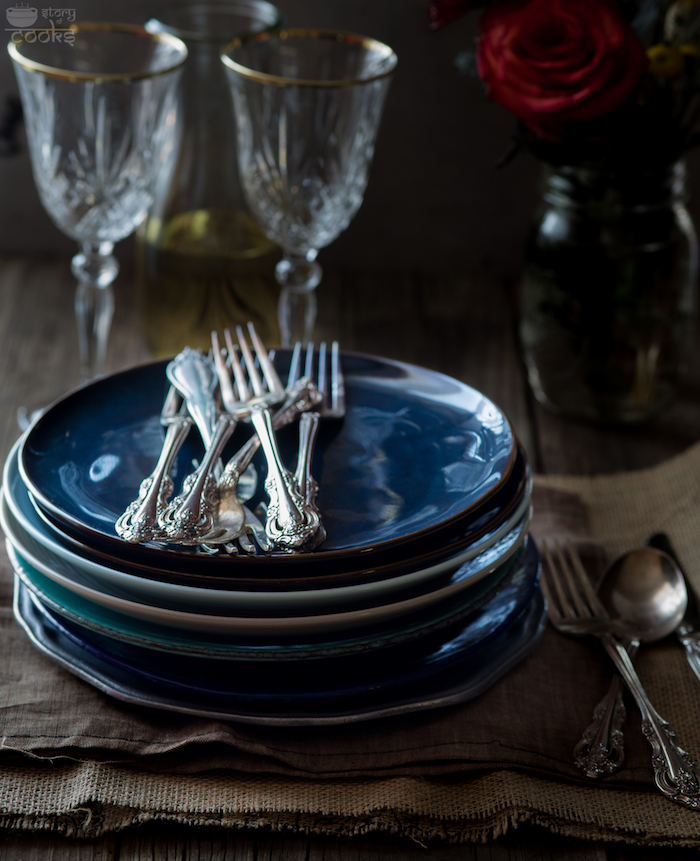 Thanksgiving is here! I am sure all of your preparations are in full swing, just like me. We shopped for 4 hours on Saturday and Sunday. I was cleaning the home and decorating until midnight. The home is looking sparkly clean and smelling heavenly with scented candles and pinecones.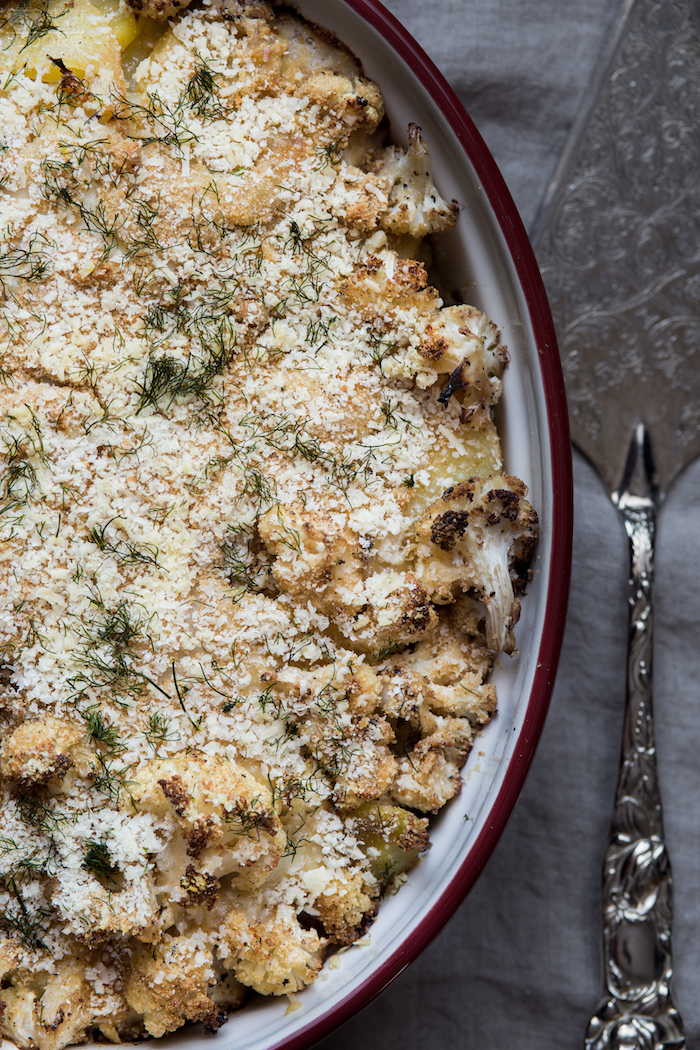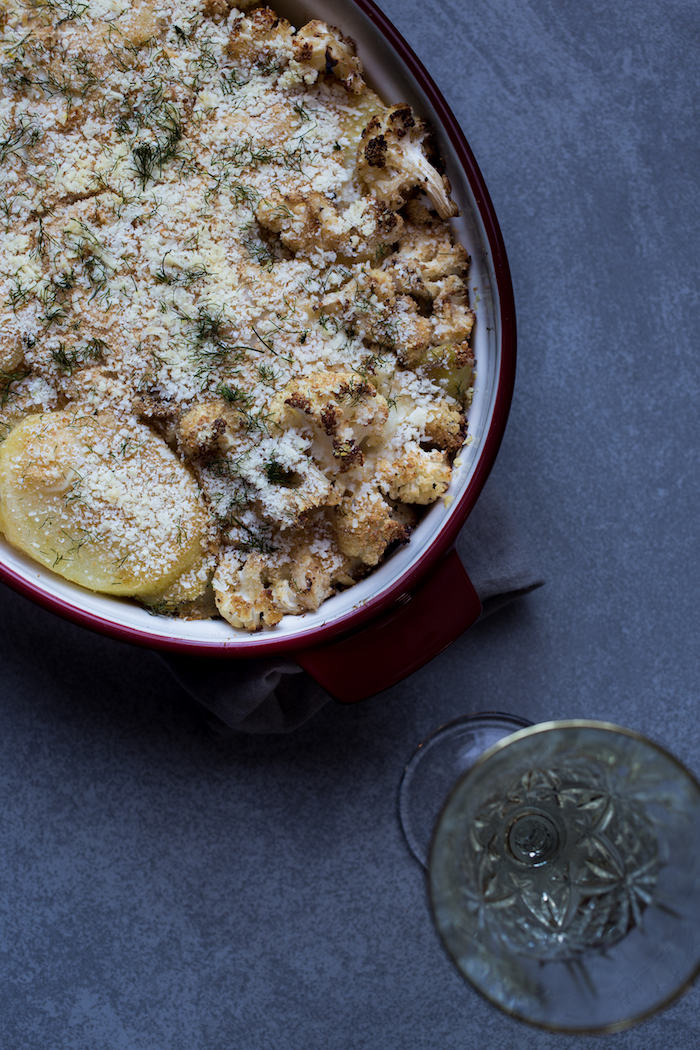 This festival just can't complete without some root vegetables, right? After thinking about it a lot, I decided to prepare potato gratin with baked cauliflower and béchamel sauce. I prepared something similar with fennel before, but this time, I am going with the potato.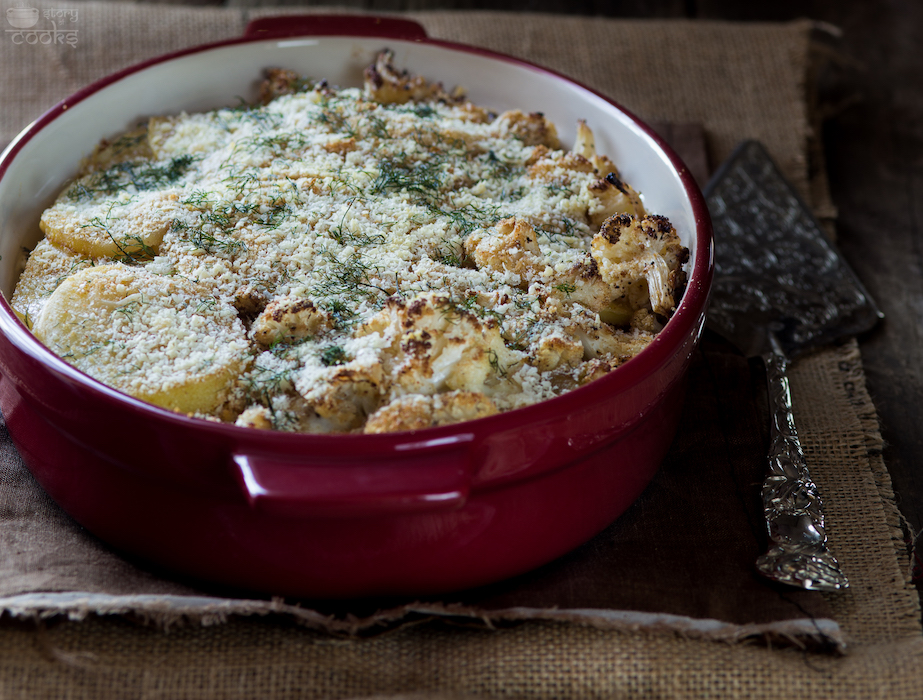 In this potato gratin, I have used a light béchamel sauce. I love this béchamel sauce because it's very light and soft. You won't feel that you ate 3000 calories or a big cow. I personally prefer the cauliflower to be cooked before using in layers of gratin. So imagine a layer of baked cauliflower, layer of white soft elegant béchamel sauce, a layer of potato and cheese and breadcrumb on top – the combination is ethereal. I prefer to use fresh herbs as they add fresh flavors. My béchamel sauce has some spices like nutmeg and white pepper – because we love that way. So if you've never tried it, you should give a try.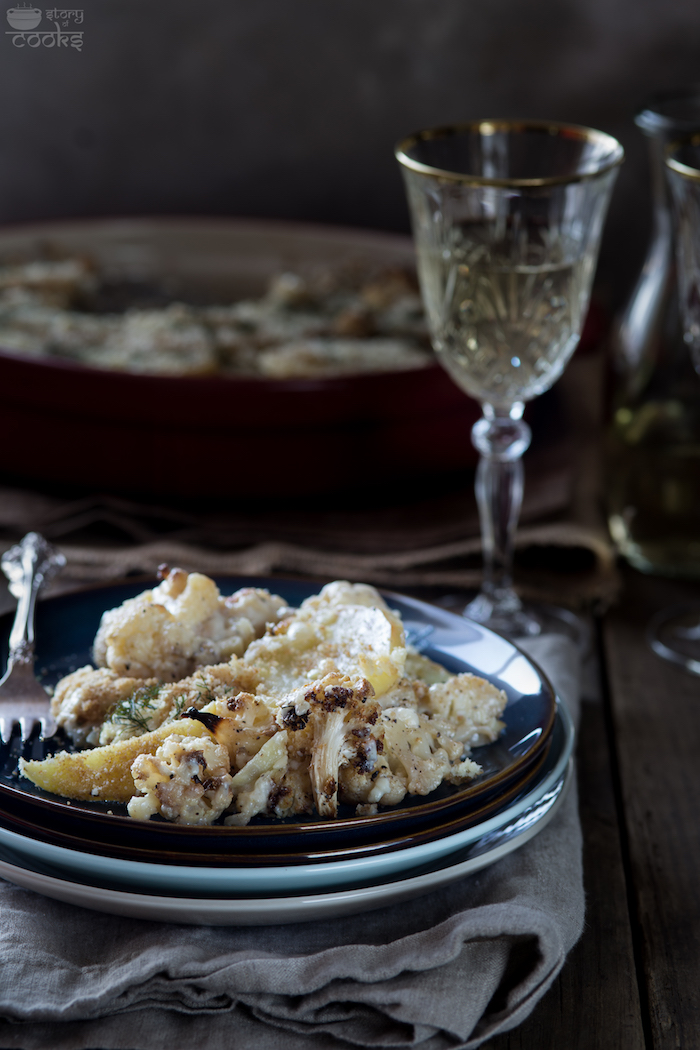 I have compiled a list of Thanksgiving dishes from my food blogger friends. So don't forget to check them out too. Pies are going to get added later.
Bird roast:
Greens recipes:
Orange Vegetables Recipes:
Cranberry Recipes
Thank you, everyone for participating. However the Giveaway is ending soon. Did you participate yet?
Giveaway is ending soon – so participate if you have not already.
Details of the giveaway: How can you win this?
Like my page on Facebook.
Follow me on twitter
Follow me on Pinterest
Comment on my thanksgiving posts
Last day is Nov 26th! It's limited to US, CAN, AUS, UK.
Potato Gratin with Baked Cauliflower
Cauliflower and potato
Béchamel sauce
Layering
Cauliflower and Potato Prep
Pre-heat the oven to 400F. Have on hand a baking dish.
Add cauliflower, 1 tablespoon olive oil, salt and black pepper. Mix well. Bake it for 40 to 45 minutes, or until it becomes golden brown. Set it aside.
Meanwhile, in a non-stick skillet over a medium-low heat, heat 1 teaspoon oil. Add garlic pieces and cook for 1 to 2 minutes, until the aroma of garlic comes out. Add shallots, and cook for 6 to 7 more minutes, or until it becomes soft. Set it aside.
Wipe out the skillet. Over a medium heat, heat 1 tablespoon vegetable oil at a time. Add potato slices and cook it while covered for 4 to 5 minutes, or until the potatoes are soft. Work in batches, until all slices are done. Take it aside in a plate.
Béchamel sauce
In a large, heavy-bottomed saucepan, over a medium heat,  heat butter.
Add flour and stir for 3 to 4 minutes, or until it forms a paste.
Add milk and stir for a few minutes. If any lumps form, break them apart with the back of a spatula. Add nutmeg, salt, and white pepper. Cook the béchamel, stirring frequently for 8 to 10 minutes, or until it comes to a boil. It will have a very thick consistency. Boil it for 1 minute. Set it aside.
Layering
Preheat the oven to 400F. Have on hand a casserole dish. Grease it well with olive oil.
In a bowl, mix breadcrumbs, salt and black pepper.
Add 1/2 of the roasted cauliflower. Spoon in half of the béchamel sauce and spread it well with the back of a spoon.
Add potato slices. Spoon in the rest of the béchamel sauce. Spread well and then add the rest of the cauliflower and onion-garlic fries.
Sprinkle breadcrumb mix followed by cheese on top.  Sprinkle fresh dil on top of it. Bake it for 35 to 40 minutes, or until it becomes golden brown and bubbly on the top. Serve at room temperature.