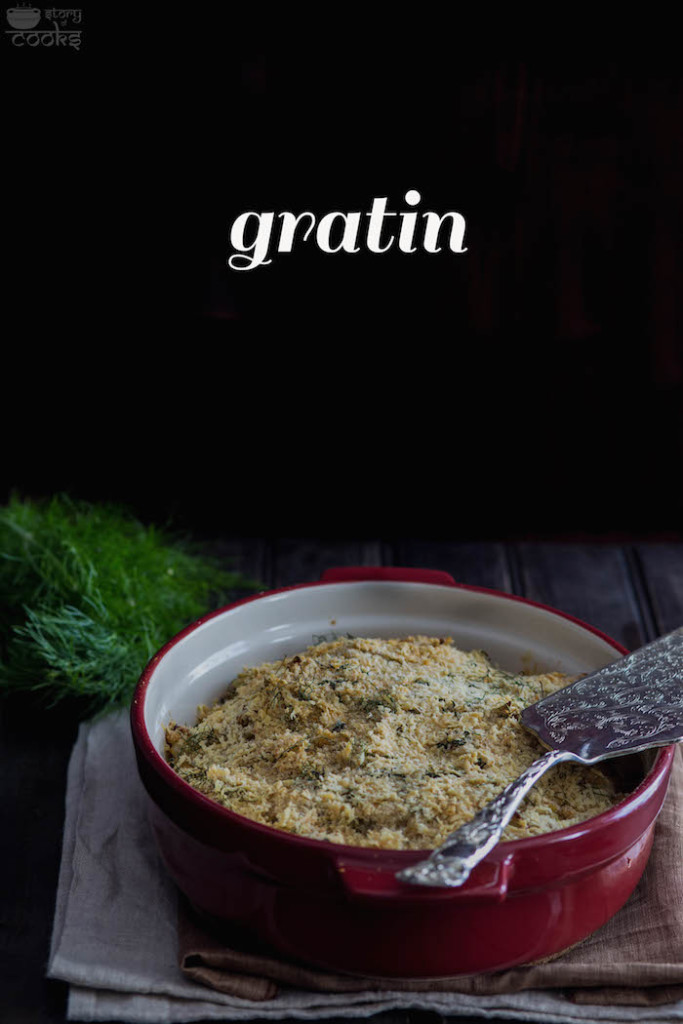 This month's theme post is about unknown veggies. We cooked a vegetable that we never cooked before. For a strictly non-vegetarian family like us it was not a big deal because there are a countless number of vegetables that I have never cooked.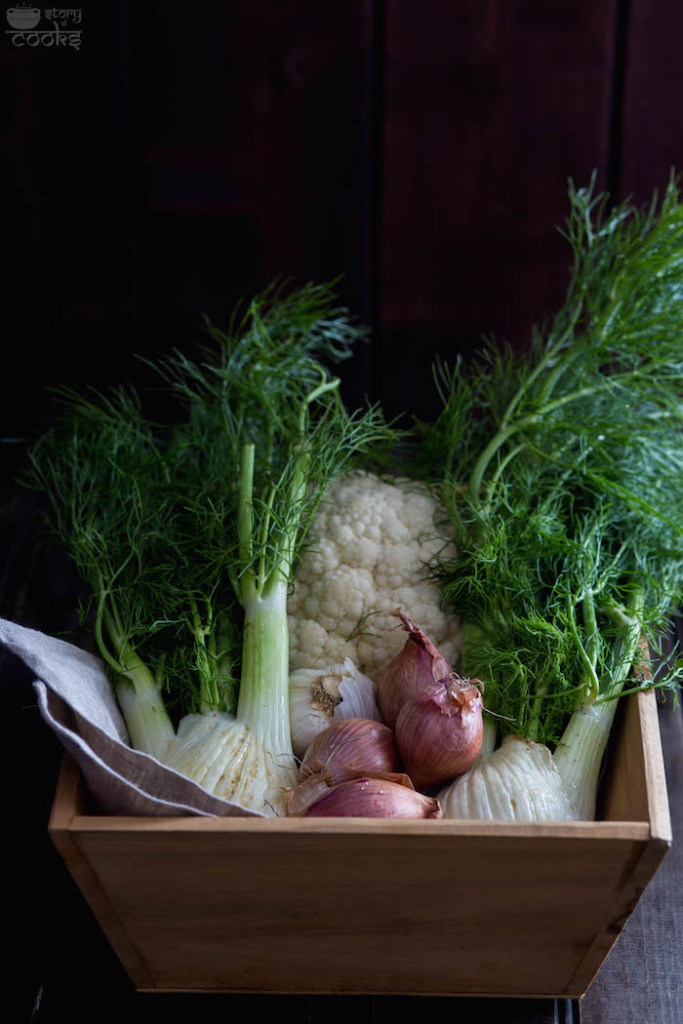 When I was growing up my parents never allowed me to keep a steady vegetarian diet. My husband is the same way. He insists that I eat some animal protein every day. But I try to incorporate greens in our dinner every week. So far I've cooked cauliflower, broccoli, brussel sprouts, green onions, okra, Chinese okra, spinach and mushrooms. I decided to cook fennel for my blog post this week. We Indians use fennel seeds in many dishes, but I have never used the whole fennel bulb.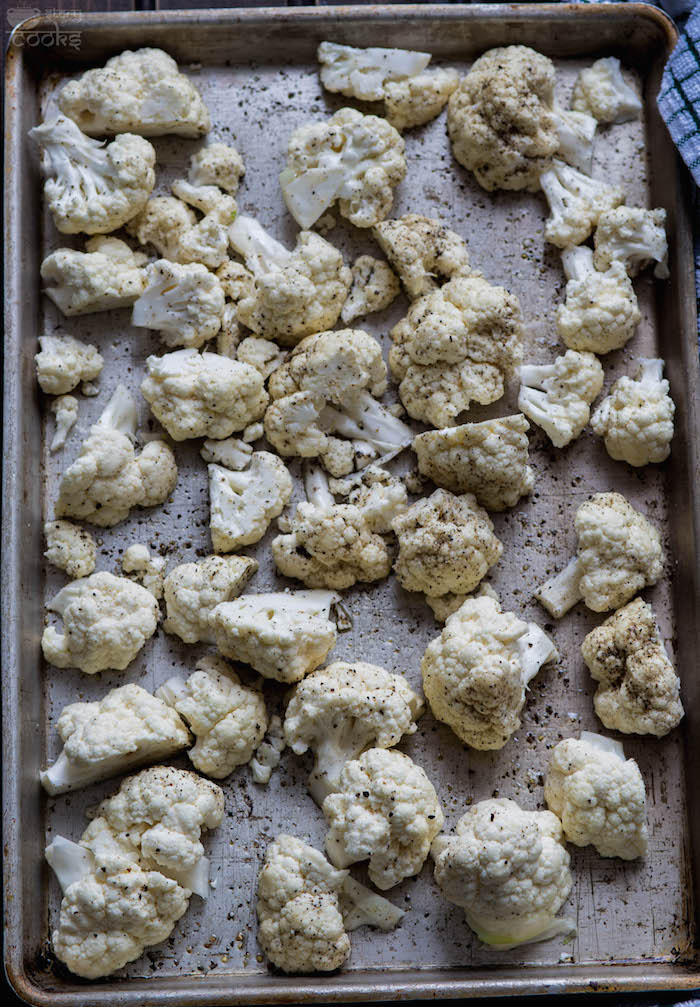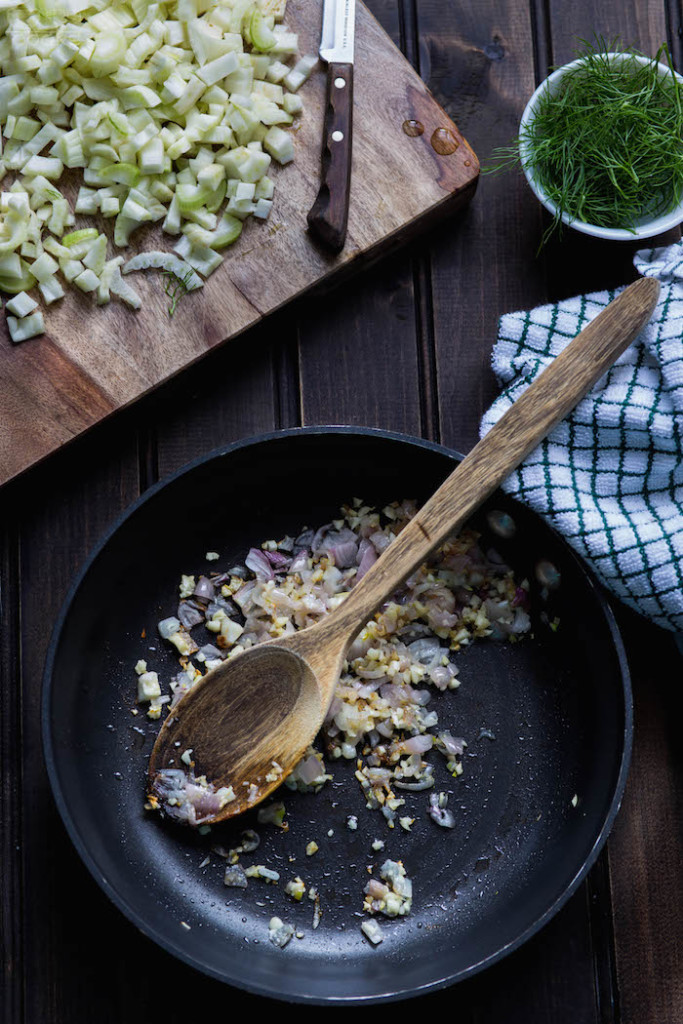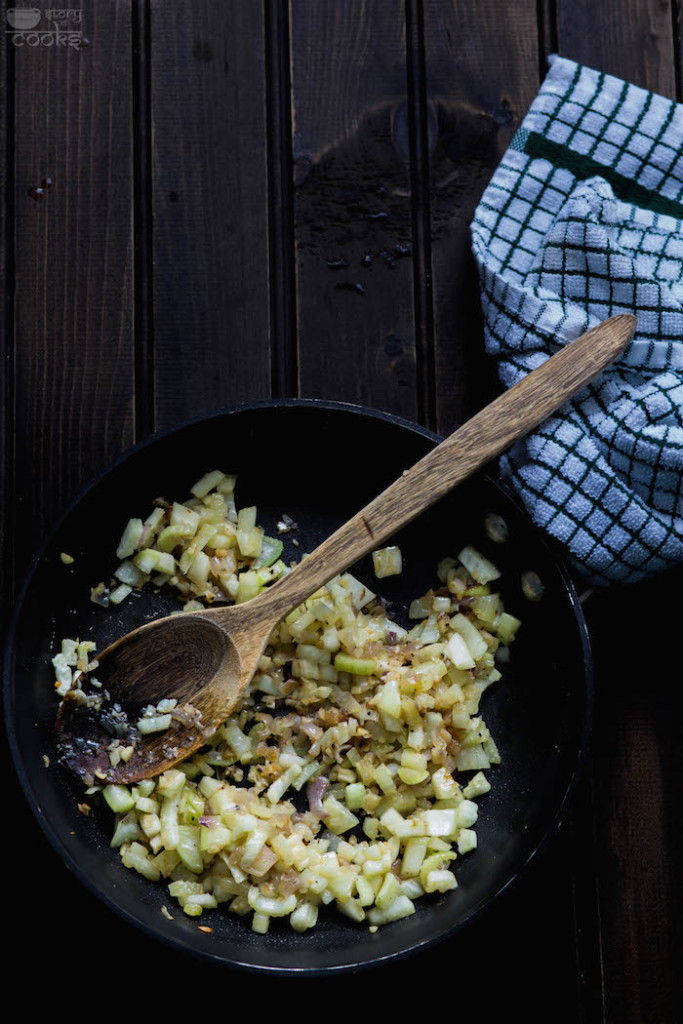 It was quite challenging!
After browsing the internet for a couple of days (yes, days) I found a recipe that both of us would like. My husband and I are trying to lose weight so I had to be mindful of our calorie intake. After much hesitation I decided to make Cauliflower-Fennel gratin. It is a French recipe and usually baked in a shallow dish. It has a magnificent golden brown crust made of breadcrumbs and cheese.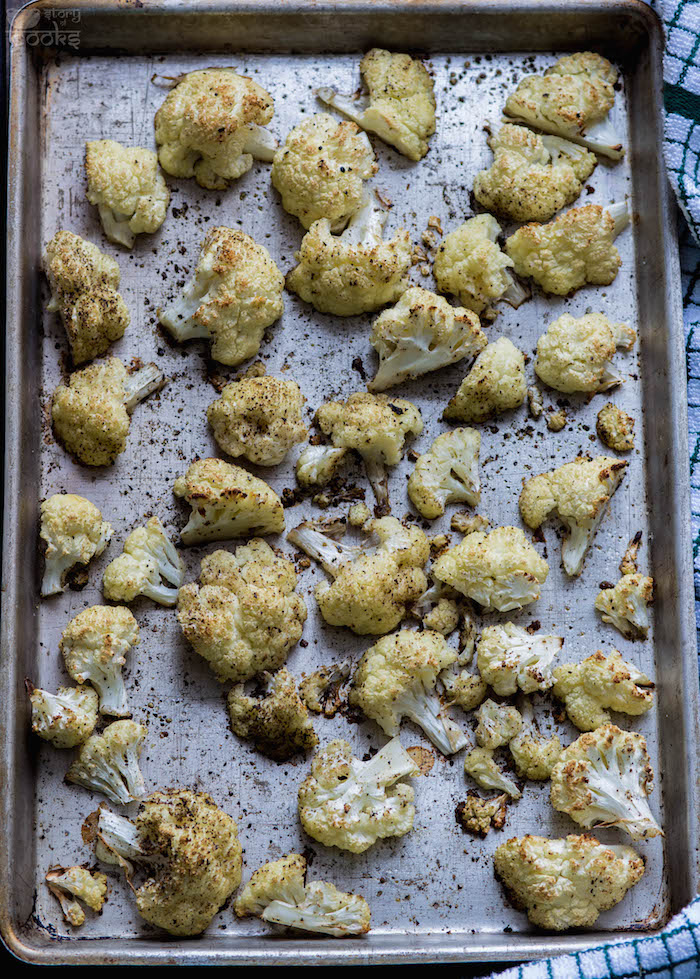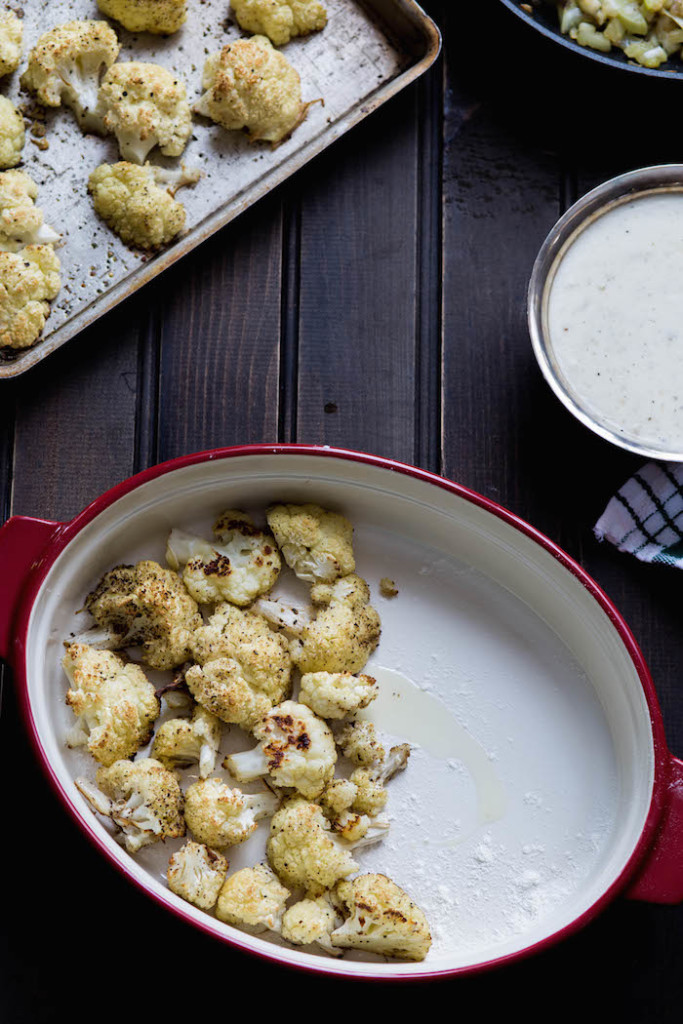 The word gratter is French for scrape or scratch. In the noun form gratin means a dish with a light browned crust of breadcrumbs or melted cheese.  Most of the time it is made with potatoes but au gratin is sometimes prepared with meat, fish, fennel, leeks, crab meat, celeriac or eggplant.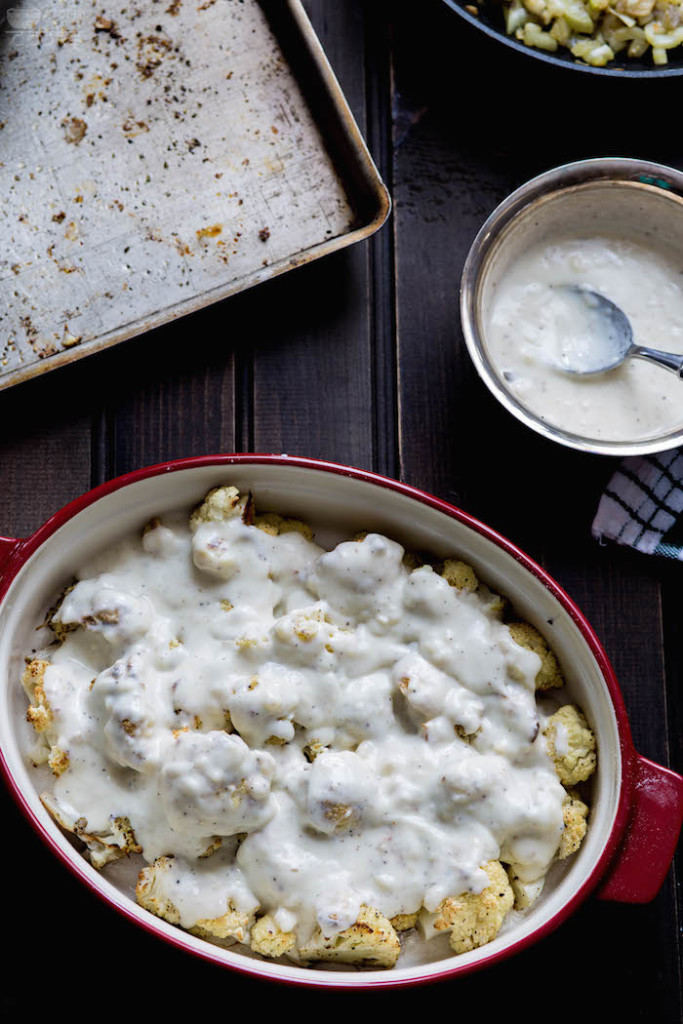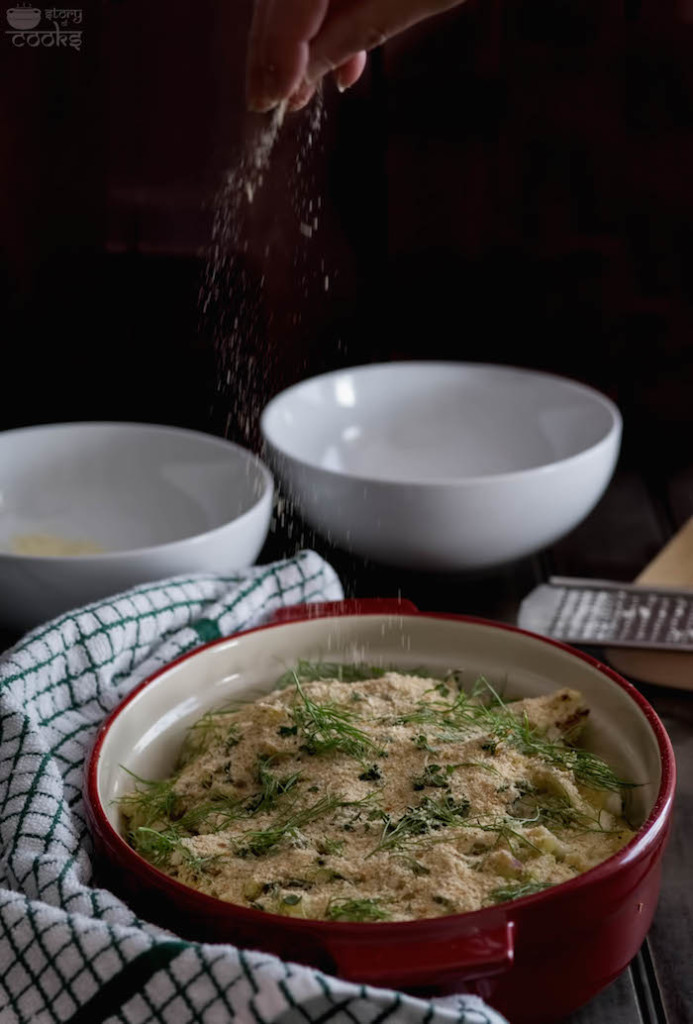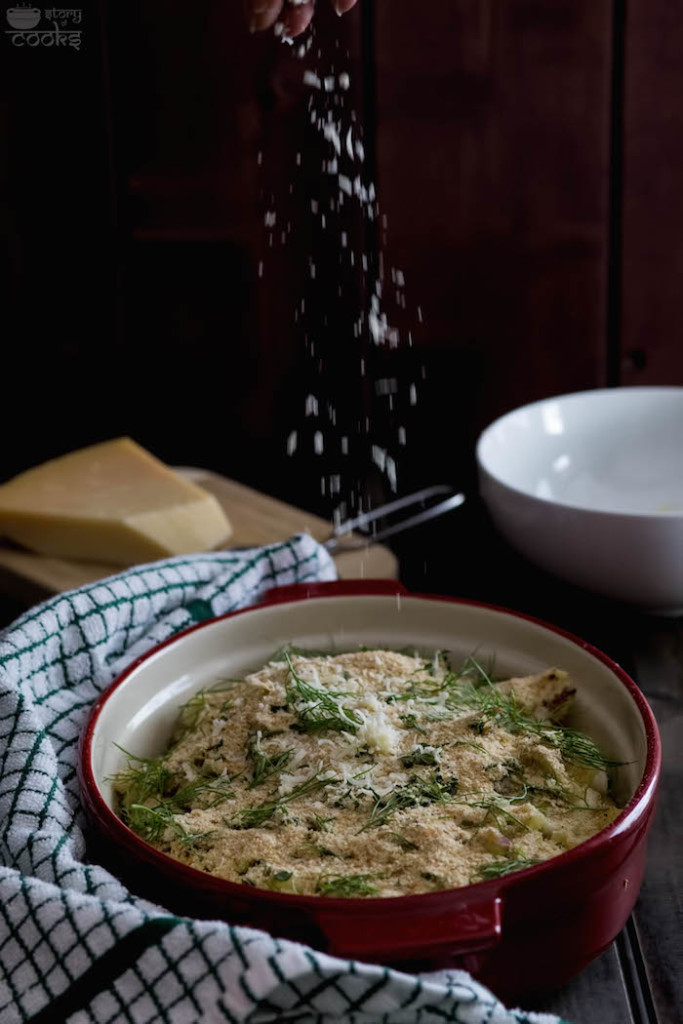 I layered my gratin with Béchamel Sauce and topped it off with panko breadcrumbs and cheese. You can make your own breadcrumbs with any stale bread. It is advisable to saute the fennel, onion and garlic. Rather than blanching the cauliflower I decided to bake it. This gives the dish a nice taste. A hint of garlic and the creaminess of béchamel with nutmeg is the deadliest combination! You might forget that you live on Earth, not Heaven. 🙂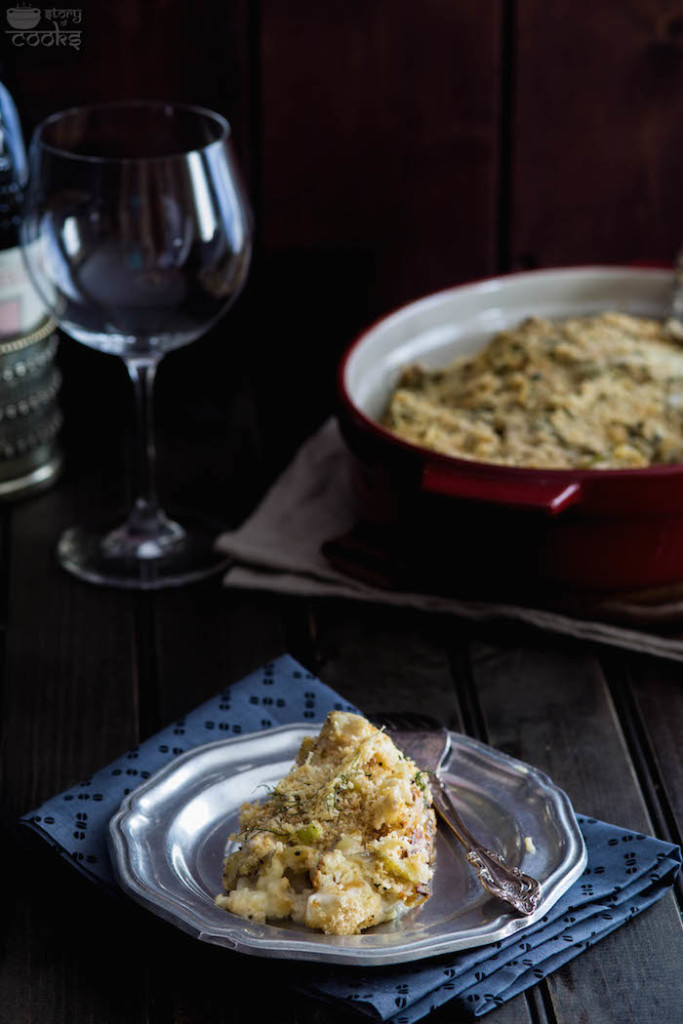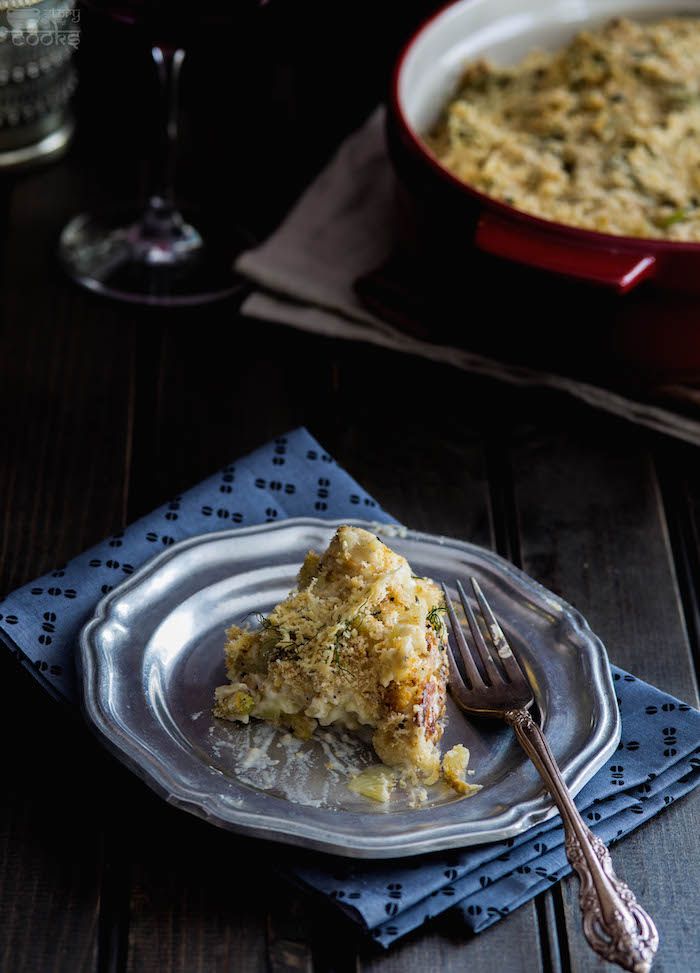 Disclaimer:
Cooking With Friends: This blog post is part of the monthly "Cooking With Friends" themed blog post challenge. This challenge was started by a bunch of virtual friends united by their love of food, with the aim of tackling a different food related theme each month. If you want to try this month's theme, please feel free to do so and link your recipe in the comments section. We'd love to check it out. Meanwhile, check out what the others in the group have come up with this month.
Anjana from At the Corner of Happy and Harried, Garima from CafeGarima, Jayashri from My Veg Fare, Jyothi from Curry Tail, Madhuri from MADaboutkitchen, Subhasmita from The Flavors of Kitchen, and Sujatha from Spice n Treats
Here is a recap of my previous months' posts.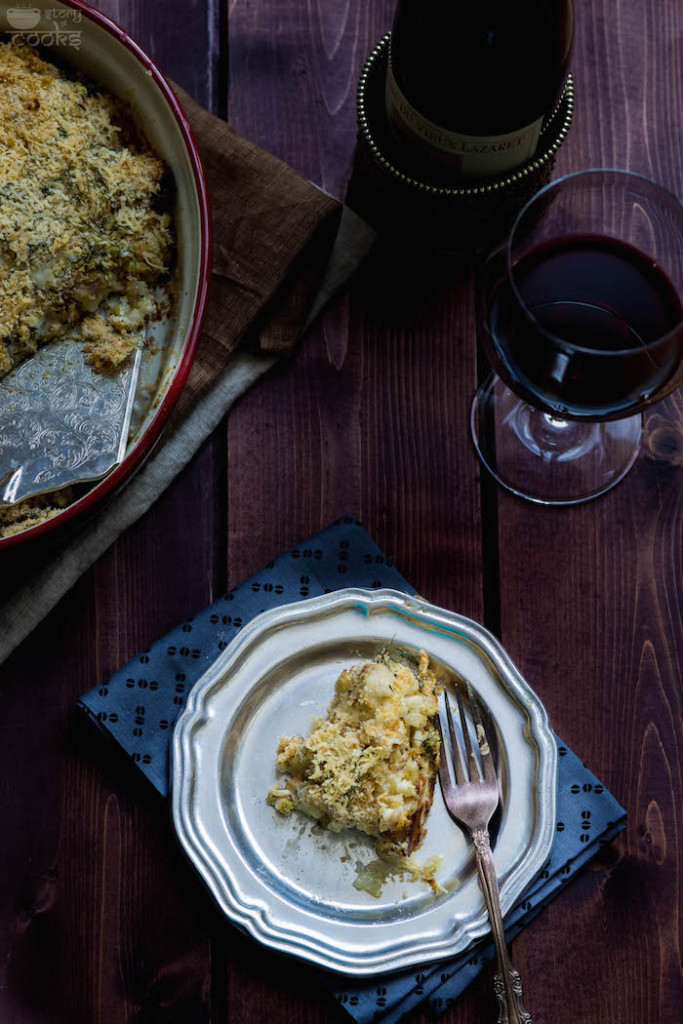 Ingredients
Cauliflower
Fennel
Béchamel sauce
Layering
Instructions
Cauliflower
1. Pre-heat the oven to 400F. Have on hand a baking dish ready.
2. Add cauliflower, olive oil, salt and black pepper. Mix well. Bake it for 40 to 45 minutes, or until it becomes golden brown. Set it aside.
Fennel
Meanwhile, in a non-stick pan over medium-low heat, heat oil. Add garlic pieces and cook for 1 to 2 minutes, until aroma of garlic comes out. Add shallots, and cook for 6 to 7 minutes, or until it becomes soft. Add fennel pieces and cook for 13 to 14 minutes, or until it becomes soft. Set it aside.
Béchamel sauce
1. In a large, heavy-bottomed saucepan, over medium heat,  heat butter.
2. Add flour and stir for 3 to 4 minutes, or until it forms a paste.
3. Add milk and stir for a few minutes. If any lumps form break them apart with the back of a spatula. Add nutmeg, salt, and white pepper. Cook the béchamel, stirring frequently for 8 to 10 minutes, or until it comes to a boil. It will have a very thick consistency. Boil it for 1 minute. Set it aside.
Layering
1.Preheat the oven to 400F. Have on hand a casserole dish ready.
2. In a bowl, mix breadcrumbs, thyme, salt and black pepper.
3. Sprinkle all-purpose flour on the bottom of the casserole dish. Spread well.
4. Add fennel onion mixture. Spoon in half of the béchamel sauce and spread it well with the back of a spoon.
5. Add roasted cauliflower.
6. Spoon in the rest of the béchamel sauce. Spread well.
7. Sprinkle breadcrumb mix followed by cheese on top. Bake it for 35 to 40 minutes, or until it becomes golden brown and bubbly at the top. Serve at room temperature.